Christmas is right around the corner (yes, it WILL come quickly) but luckily, for now, we have some availability left on selected rooms at The Lion over the festive period. There is so much to see and do in Malpas & Cheshire this time of year, you'll want to make the most of it by spending a weekend hitting all the best spots!
What are those you ask? Don't worry, we've got you covered – crack open that calendar for some serious Santa-filled inspiration. Just don't forget to pop in and see us for a lovely warming meal afterwards, or book up one of our rooms to make a real occasion of your Christmas in Cheshire.
Our Top 5 Things To Do For Christmas In Malpas & Cheshire
BeWILDerwood's Christmas
It's what we've all been waiting for… BeWILDerwood Cheshire are hosting their first ever Christmas event and it's set to be the most wholesome festive event of the year. With a Sparkly Light & Panto Trail running through the grounds, this unique event will be like no other on this list. Full of beautifully handmade decorations, sparkly lights, Christmas cheer and of course the curious characters of BeWILDerwood will be sure to make an appearance. Taking place at dusk, visitors will be able to follow the light trail and explore exclusive pathways created just for this event. Think silly snowmen, giant Christmas crackers and even a huge Christmas pudding!
You can visit on selected dates from the 2nd to the 23rd December and tickets are now available to purchase online. The Lion is less than 5 miles away from BeWILDerwood, so we're a great option for food and drinks with the kiddies afterwards.
The Lanterns @ Chester Zoo
The Lanterns at Chester Zoo is always a spectacular hit at Christmas time. The zoo transforms into a spectacular wonderland, full of sparkle, illumination, and plenty of festive fun! Trail through fantastical worlds, each different from the last, and get immersed in this magical and uniquely Chester Zoo evening event, giving you the chance to see the zoo in a whole new 'light'.
Chester Christmas markets
Looking for a last minute gift, a handmade treat for yourself or just a cup of mulled wine and a handmade mince pie? Whatever the case, Chester Christmas Market will be back in the heart of Chester this year. Situated in the square around the town hall, the new arcade and the forum surrounding the iconic sparkling tree in the heart of the city centre, 70 magical stalls selling their festive wares await.
Christmas at Delamere Forest
With over a million lights and seasonal sounds promised, Christmas at Delamere Forest will bring bundles of festive cheer to the forest. Follow the trail around the woodlands and get immersed in the illuminations. Look forward to a magical time together with your loved ones as you discover glittering tunnels of light, trees drenched in jewel-like colour and wander beneath larger-than-life illuminations. We're just over 30 minutes away from the forest, so this one's perfect for our guests who're staying a few nights with us over the festive season. You could even stop at the Chester Christmas markets on your way back.
Christmas at Bolesworth
Finally, tis' truly the season to celebrate with loved ones, so bring the family and enjoy a sparkling Christmas at Bolesworth. Set for a spectacular 2022 reinvention, Bolesworth's grounds will be transformed into a festive wonderland once more, festooned in seasonal sparkle and yuletide cheer for a month of unforgettable winter magic. This year their festivities feature an all-new light trail route, a spectacular light show incorporating Bolesworth Castle itself and a unique water display on the lake. Many people visiting Bolesworth either stay or eat at The Lion, due to us being just over 10 minutes away by car.
Christmas In Tarporley At Swanderland 2022
Though all the above sounds very exciting, please don't forget the main event, our sister pub The Swan at Tarporley's very own festive celebration this year which aims to give you MORE after two back-to-back Christmases that just didn't feel the same! 'Swanderland' opens on Wednesday 23rd November and showcases a spectacular schedule which includes a Santa's grotto in the Tarporley Room, wreath making workshops, the Great Tarporley Quiz, and a festive gift fayre to name a few! Check out the full programme below.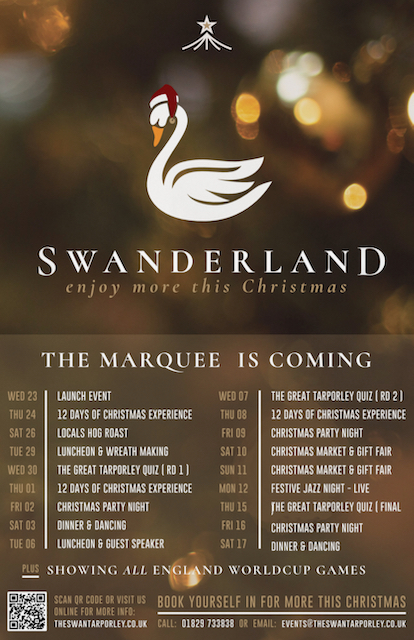 All information on our Swanderland event can be found on the website, Facebook, and Instagram. For booking, you can call 01829 733 838 or email events@theswantarporley.co.uk.
Don't forget Christmas at The Lion too! For events and Christmas bookings, please email events@thelionatmalpas.co.uk or you can book rooms and tables directly on our website.