Located in the heart of a quaint little village, The Lion at Malpas is a little piece of British culture wrapped in the arms of a beautifully reworked historic building.
Nestled away in the south west tip of Cheshire, a stone's throw from the borders with Shropshire and Wales – Malpas is a beautifully peaceful and historic village. The Lion (previously the Red Lion) has been a central part of Malpas village life for over three centuries.
Steeped in royal history, the Lion is home to the esteemed 'King's Chair.' Once sat in by the first Stuart monarch, King James I – who reigned between 1603 and 1625 – the chair is one of Malpas' most famous historic artifacts. Purchased by a group of enthusiastic Malpas residents who have chosen to allow the chair to remain on show in the pub, we at the Lion feel honoured to showcase one of the most important pieces of history pertaining to the area.
In 2018, Si and Chrissy Lees Jones bought the Red Lion in Malpas and in conjunction with local operator Woody Barlow set about creating a fabulous home from home pub experience. With meticulous planning, work begun to modernise the existing pub and add 16 stunning new bedrooms as well as a beautiful, self-containing event space, the Brereton Suite. The Lion was officially re-opened in September 2020 to begin the next chapter of its long and illustrious history.
In keeping with tradition, the inside is artfully decorated with reclaimed oak beams, gorgeous artwork and authentically comfortable furniture. Warmed by log fires, the Lion boasts 'an area for everyone.' Whether you're looking to grab a drink with friends or enjoy a meal with family, there is a place for you at the Lion.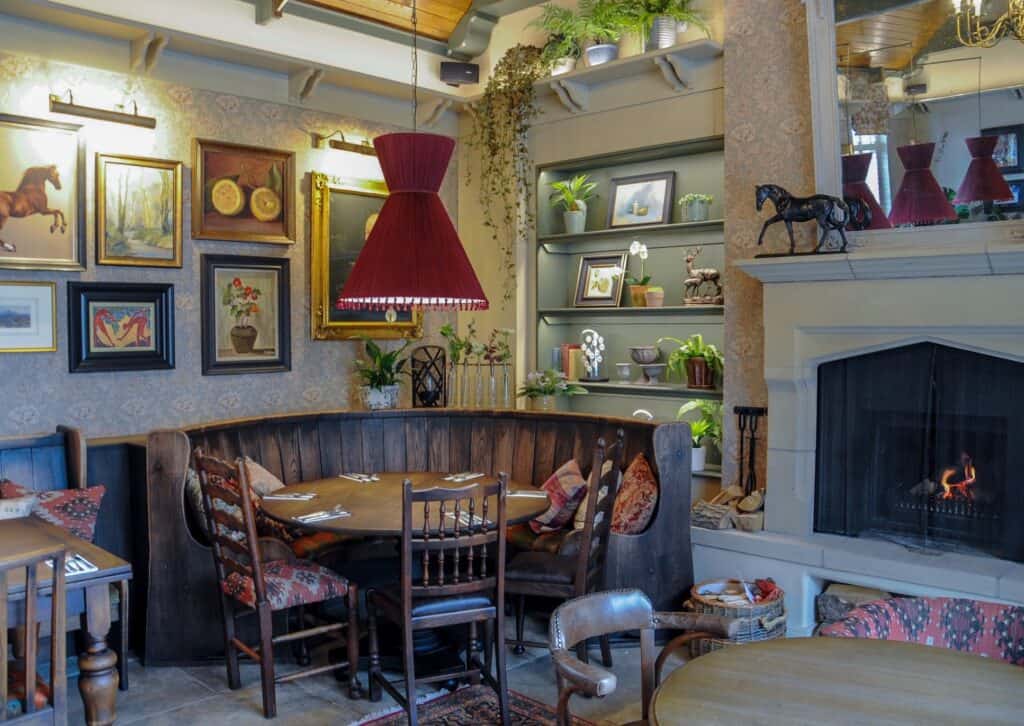 Outside you'll find a large welcoming beer garden with comfortable seating and a large log burner for warmth on those colder nights. With generous parking, our Brereton suite is a new addition to the old Lion. With this luxurious event space and private bar, we hope to bear witness to many happy memories made here. Whether celebrating a birthday, nuptials or hosting a corporate event, this space is perfectly suited.
Lovingly restored for a great British pub experience, the kitchen will showcase the very best local produce with meals prepared to reflect the seasons alongside the pub classics one would expect to see. The luxury menus are updated daily to showcase the fresh ingredients, each cooked in a variety of ways including on a state of the art Josper oven, using coals to produce unique and beautiful smoky flavours.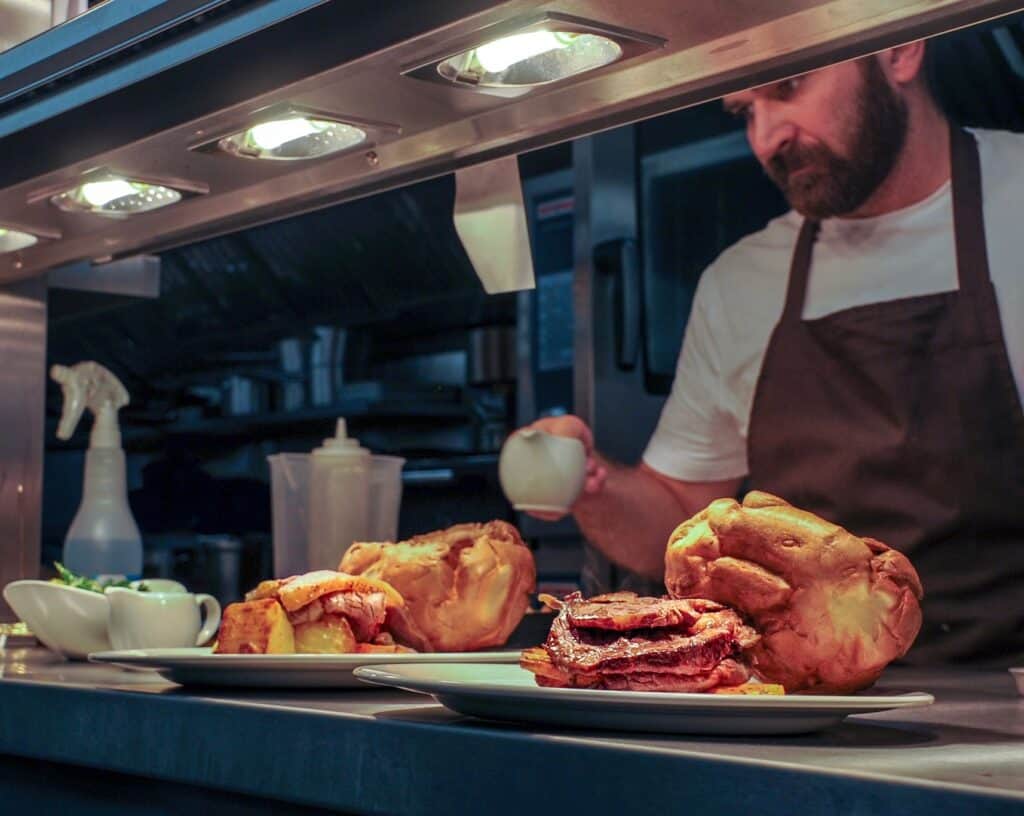 The bar boasts 4 fine cask ales in support of local breweries such as the award-winning Weetwood Ales, craft lagers, cider and an array of bottled drinks from around the world. A short but well considered wine list (selected by leading wine expert, Jon from Define Wine) will compliment any of our seasonal dishes. An artisan gin list and a fine selection of malt whisky complete the line up to offer you an experience for all occasions.
Looking to escape for a bit of R&R? Alongside the pub, there are also 16 rooms on site. Upon entering The Lion at Malpas, it feels as though you're stepping into a small community; a little village inside a village if you will. There are various room types available, including a converted bakery which serves as the luxury suite, to classic B&B style rooms with an exclusive breakfast area for those staying overnight. Each room echoes chic and contemporary designs, open and airy with plenty of natural light, perfect for an overnight stay or a longer break.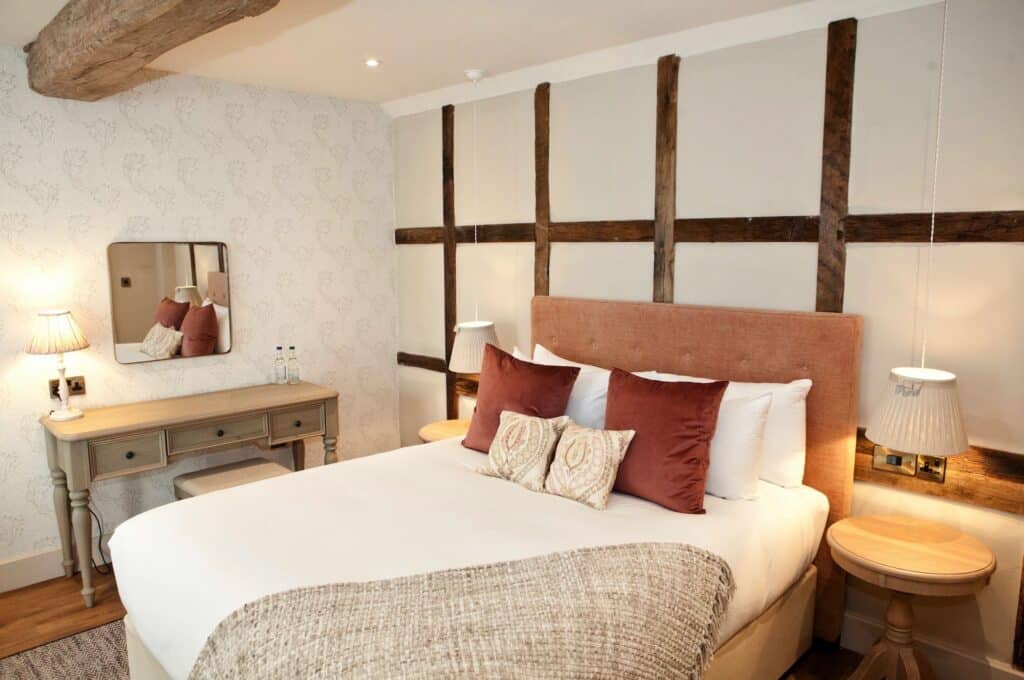 There are plenty of things to do in Malpas, whether you're planning to stay in the village, or head out into the Cheshire countryside. Our village and country rooms are also ideal for shutting away from the world and unwinding; you need not ever leave our grounds if you don't want to.
Whether you're looking for some locally sourced pub food, a comfortable place to grab a drink with friends, or a relaxing overnight stay, you can find all of that here, at The Lion at Malpas.
To book a table, or reserve a room call us on 01948 807 070 or visit our website