At The Lion, we don't just serve fine food and drinks! Did you know that we're also a popular small wedding venue for those looking outside the usual traditional routes? We love hosting happy couples on the most special day of their lives – who wouldn't?
Not everyone wants to have a huge wedding; instead, focusing on just your closest relations and friends is a way to ensure you can have a more private, intimate ceremony – with the added benefit of lower costs and less hassle! Even before COVID-19, small weddings and even 'micro weddings' (defined as fewer than 20 guests) were chic.
5 Small Wedding Tips
From the experience we've had with weddings and celebrations since we opened, here are some of The Lion team's small wedding tips, for those more intimate occasions.
Get Creative With Ideas
With a smaller ceremony, you can afford to go all out with any zany ideas you might have been more reluctant to execute in front of lots more people.
Why not have that Disney themed wedding you joked about a long time ago? Or you could hire photo booths, magicians, or any kind of themed entertainment that you fancy. You only have one wedding, after all – you might as well make it one personal to you!
When you have a manageable space to play with, you'll have the opportunity to get creative.
The Brereton Suite is purposefully neutral, so you can tailor it to suit your style.
Pay Attention To Details In Dressing
It's the little things that people remember, and the benefit of a small venue is that you can now make all the small things exactly to your taste within your dressing.
From individual place settings to flowers adding character to the place, you can make your special day as personalised as you wish.
Forget crowd-pleasers – you only need to please yourselves, and your nearest and dearest of course! What could be easier?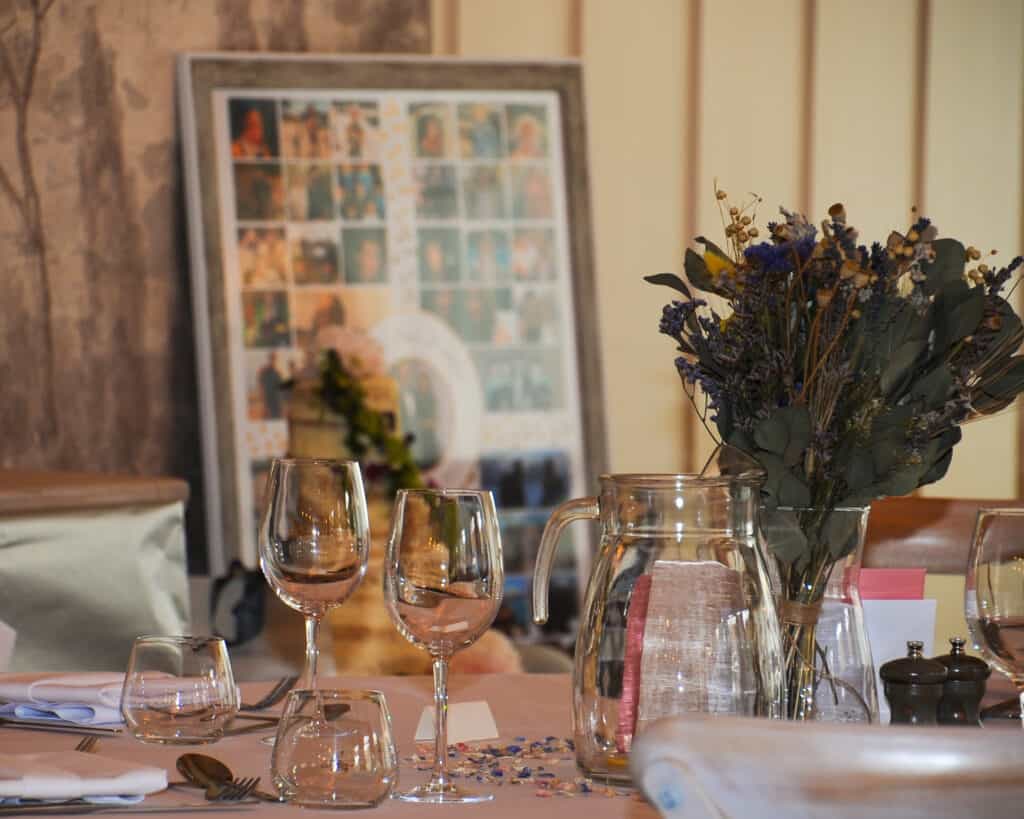 Consider Seating Arrangements
With a smaller guest list, it's very easy to allow everyone to be seated in a way that doesn't exclude or remove anyone.
When styling your venue and putting together table plans, if your guests can all fit on one or two long tables, then that's a great solution. Say goodbye to traditional round tables and instead, make your guests feel like the special family members they are.
Our Brereton Suite is cosy and inviting, with an outside courtyard area too, it's ideal for those lovely weddings where everyone leaves knowing everyone else.
Splurge On Cuisine
Why stop at dressing your venue? Consider making your food just as fancy as you desire too.
There's no reason not to make the dinner at your intimate wedding a spectacular affair – and with fewer people, there are less individual tastes to cater for.
As you'll have fewer plates to make, why not extend your venue dressing efforts to your plates and even cutlery, you might like to fit in with a theme or use bright and bold colours that'll stand out in your wedding photography.
Plus, with money saved on venue hire, and less people to cater for, you may well have a more generous budget to spend on catering, ensuring it's exactly what you're looking for.
Make Your Space Seem Bigger
Despite your venue being small, you'll no doubt still want to create a lovely setting for your guests.
Making your space seem bigger is achievable in lots of ways, mirrors or even just mirrored decorations are a popular way of making a place seem large and airy. Keeping your decorations minimalistic is also a tried and tested way of 'creating' more space and opening up a room.
We know that the happy couple will have their own vision of how their special day will look, that's why our Brereton Suite is kept minimal so it can be decorated any way you wish. You can be as creative as you want – it's your blank canvas!
Small Wedding Venue @ The Lion
At The Lion, we will work with you to make your day perfect for you and your spouse. Not only will you be assisted by our chefs and wine specialists, but we're also happy to recommend our excellent partners for wedding cakes, floral and table decorations, spa and beauty treatments, entertainment and much more. Make it a day to remember for your loved ones!
Get in touch with our team today to discuss your big day – we'd love to hear from you.